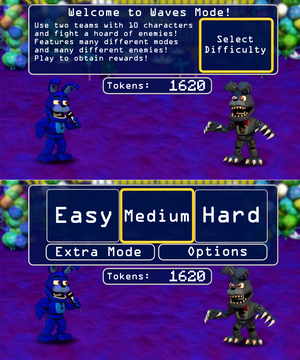 Waves Mode
is a mode ran by
Wave Rabbit
that appears in
Pinwheel Funhouse
in
FNaF World - Update 3 (FlyingNosaj)
. Two teams of ten characters fights waves of enemies.
Difficulties
Edit
Easy

Enemies are weak and there's not many bosses.

Medium

Enemies are strong and there's a few bosses.

Hard

Enemies are very strong and there's a lot of bosses.

Extra

An endless version of Hard Mode.
In the options menus, you can change things.
Background Location

Every location from the game appears as an option. They have no change other than being a different background, but you must unlock Geist Lair and The Void.

If you choose Geist Lair, the enemies from Geist Lair will only appear and you can enable and disable the Toxicity Effect, and the Update 2 characters are available.

Amount of Waves

Minimum is 15, and maximum is 150. This won't work in Extra Mode.
Ad blocker interference detected!
Wikia is a free-to-use site that makes money from advertising. We have a modified experience for viewers using ad blockers

Wikia is not accessible if you've made further modifications. Remove the custom ad blocker rule(s) and the page will load as expected.